Regular price
$30.47 USD
Sale price
$26.07 USD
Unit price
per
Sale
Sold out
Share
View full details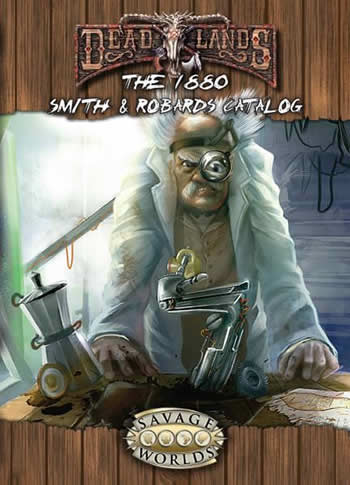 S2P10208 Deadlands Reloaded: The 1880 Smith and Robards Catalog Savage Worlds RPG by Studio 2 Publishing

Have you ever needed something you do not think they make? Well, they do not, but we do. With the The 1880 Smith and Robards Catalog, you will find a variety of wonders brought to you by the most modern scientific, engineering, and manufacturing processes known to man! With one mail-order form, untold marvels can be in the palm of your hand faster than you can recover from a Hellstromme Industries mishap!

Flip through our pages of delight and discover conveyances to cross any obstacle, handy elixirs, potent patent tonics, powerful weapons, wondrous clothing, and stalwart armors. Rail cars and accessories, ghost rock and boilers, the odd and miscellaneous-nothing is without representation in the incredible 1880 Smith and Robards Catalog.

The 1880 Smith and Robards Catalog includes a wide variety of gadgets and supplies for your Deadlands game, as well as the complete Smith and Robards story and their secrets. With expanded rules for mad scientists and new rules for steam augmentations, the early cyberware of the Weird West, you can take your game where it has never been-to Science!

The 1880 Smith and Robards Catalog is not a complete game. It is a supplement for the Deadlands setting for Savage Worlds.