Regular price
$15.50 USD
Sale price
$13.64 USD
Unit price
per
Sale
Sold out
Share
View full details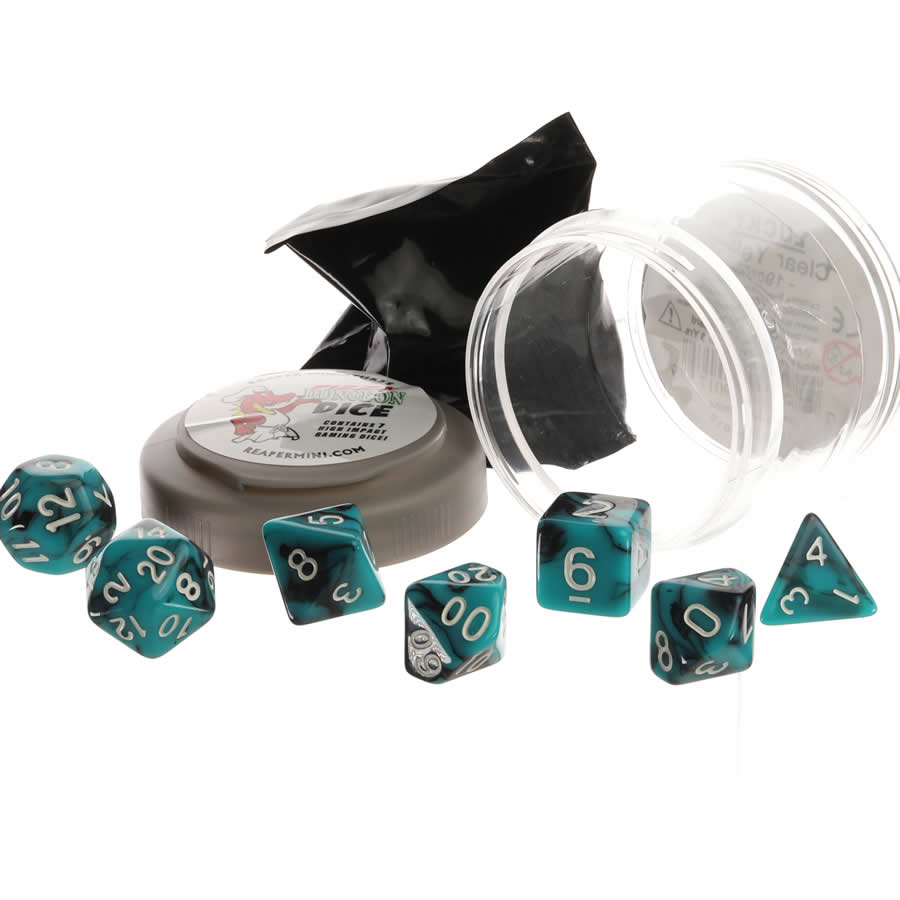 RPR19060 Teal and Black Dual Color Dice Set 16mm (5/8 inch) Dungeon Dice with Random Miniature Included Reaper Miniatures

Contains
- 7 Dice dice set
- Dice are Teal and Black Dual Color with Silver Colored Numbers 16mm (5/8 inch) in Size.
- Dice Jar with Lid
- 1 Random High Roller Miniature Figurine

Your dice collection has taken years to test, organize and accumulate. A personal achievement that delivers satisfaction every time you reach into your arsenal and retrieve the perfect die that delivers another heroic victory. Dice that roll high, or low, lucky dice, special situation, and desperate times dice. As a professional dice collector, you seem to have just what is needed at the right time.

Savvy gamers and collectors are always on the lookout for something new and cool, and Pizza Dungeon Dice are just that!

What sets Pizza Dungeon Dice apart from the rest of the pack is our attention to functional design. Each set of Pizza Dungeon Dice is packaged in a clear sided shaker that will nest together with more shakers making for easy identification, transportation and organization of your dice collection. Inspired by the cheese shakers on tables in pizza parlors, these shakers are also the perfect jar to use as your dice cup!

For added function each Pizza Dungeon Dice set contains a random High Roller figurine that is perfect for a henchman pawn, or a fast substitute for your new PC. The packaging and color of each included figure is random so you will have plenty of choices for a fast NPC or for marking a key location on your table map!