Regular price
$58.49 USD
Sale price
$52.50 USD
Unit price
per
Sale
Sold out
Share
View full details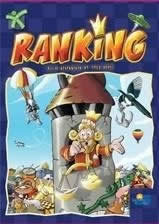 By Rio Grande Games

Players: 3 to 5
Playing Time: 30 minutes
Ages: 8 and up

At the beginning of the game, each player receives a different set of picture tiles. To start a round, a theme is shown, e.g. (Women like it). Everyone thinks about this and selects a tile from his set, but does not show it to the other players. Players lay their tiles picture-side down on the table, and these tiles are mixed up with random tiles from the stock.

On the board, there are slots which are numbered from 0 to 6. Tiles are placed next to slot 3 so that everyone can see the pictures. The goal for each player is to have his tile reach the top (slot 6) of the ranking of items that best meet the requirement. Each player receives points equal to the slot number where his tile is at the end of each round. The point total is reduced if another player correctly guesses which tile belongs to whom and marks it with the players color.

The first player to score 15 points after a round ends the game and is the winner. He is the RanKING.