Regular price
$21.47 USD
Sale price
$18.72 USD
Unit price
per
Sale
Sold out
Share
View full details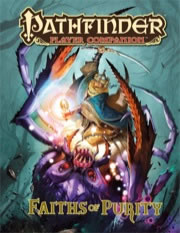 PZO9416 Faiths of Purity - Pathfinder Player Companion by Paizo Publishing

True heroes know that evil is not an abstraction, nor a concept to be debated. Rather, it is a relentless adversary, a dark tide that seeks always to roll over the world, turning the hearts of gentle souls with its claws and whispers. Against this onslaught stand a proud and pious few: those priests and soldiers who dedicate themselves in body and soul to the forces of light, ready to lay down their lives in defense of the innocent. Aided by the powers of their gods, these stalwart champions use sword and spell, faith and ferocity to protect all that they hold dear. For they know that if they do not - who will?
Faiths of Purity presents a player-friendly overview of the good-aligned religions of the Pathfinder campaign setting, along with new rules and information to help players customize pious characters in both flavor and mechanics.