Regular price
$30.47 USD
Sale price
$25.47 USD
Unit price
per
Sale
Sold out
Share
View full details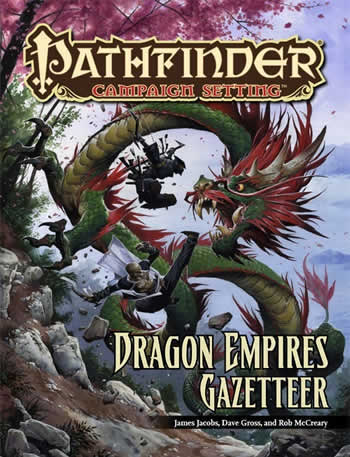 PZO9240 Dragon Empires Gazetteer Pathfinder Campaign Setting by Paizo Publishing

The mysteries and wonders of the Dragon Empires are finally revealed! The continent of Tian Xia stretches from the polar ice in the north to well south of the equator a realm where honorable saumrai, devious ninja, martial artistry, strange spirits, and imperial dragons rule. This broad overview of Tian Xia presents details on more than two dozen regions inspired by the mythology of Japan, China, Korea, Vietnam, Indonesia, and other Asian touchstones, as well as brand new realms like Wanshou (a swamp nation of slaves ruled by a kraken), the hobgoblin nation of Kaoling, the tengu homeland of Kwanlai, the monster-infested Valashmai Jungle, and the underwater locathah enclave of Xidao.

The Dragon Empires Gazetteer also presents five new player character races the birdlike tengus, reptilian nagaji, shapechanging foxlike kitsune, reincarnted spiritualists known as samsarans, and the shadowy masters of trickery called the wayang. An overview of life in the Dragon Empires offers a look at a new core pantheon (including more than a dozen brand-new deities), several new factions, and the challenges faced by a land recovering from the recent fall of a continental empire. Grab your katana, ready your best kung fu, and prepare to discover a whole new world of exciting adventure!