Regular price
$30.47 USD
Sale price
$25.47 USD
Unit price
per
Sale
Sold out
Share
View full details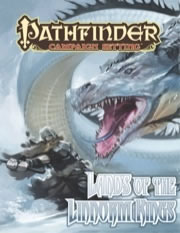 PZO9238 Lands of the Linnorm Kings - Pathfinder Campaign Setting by Paizo Publishing

This in-depth 64-page gazetteer explores the legendary Lands of the Linnorm Kings, a northern realm of larger-than-life adventure where Viking kings earn the right to rule by defeating enormous, primeval dragons - linnorms. From the rugged western islands of the Ironbound Archipelago to the battleworn expanse known as Hagreach in the east, this volume contains detailed treatments of all the major locales in the region.
Numerous adventure sites and campaign themes are explored in detail, such as remote troll-haunted ruins, mysterious locations linked to the eerie realm of the fey, and even a sample linnorm hunt. Rules on weregild (fees for hostages or slain enemies), effigies (mundane and magical ways to strike fear into your enemies), and reputation in this ferocious land are explored, as are several new monsters and pre-built enemy NPCs, such as remorseless longship captains, berserkers, new trolls, and the most powerful linnorm in the land - dread Fafnheir!