Regular price
$30.47 USD
Sale price
$25.47 USD
Unit price
per
Sale
Sold out
Share
View full details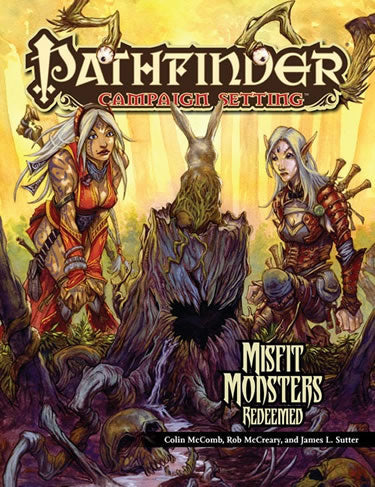 PZO9227 Misfit Monsters Redeemed Campaign Pathfinder RPG by Paizo Publishing

Everyone Deserves a Second Chance

Over the course of its decades-long history, fantasy gaming has produced countless monsters both terrifying and alien, some pulled from mythology and others sprung full-formed from the twisted imaginations of their creators. Yet as with any idea, not every monster can be a winner. Or can it?

With Misfit Monsters Redeemed, Paizo Publishing has taken 10 of the most notoriously bad monsters in RPG history - the lamest, most hated, and flat-out silliest creatures in the genre - and attempted to make them fun allies and adversaries for players and Game Masters alike. Each monster comes complete with updated statistics for the Pathfinder Roleplaying Game, lengthy ecologies explaining how the monsters behave and why they are the way they are, tips on how Game Masters can use them in a campaign, notes on how to fit the monsters into the world of the Pathfinder campaign setting or your own home game, and more.

Inside this 64-page book, you will find monsters such as
- Flumphs, everyones favorite flying jellyfish monster, come from the stars to warn innocent civilizations of the cosmic horrors lurking in the darkness.
- Disenchanters, the blue-furred camels who live to prey on adventurers magical gear.
- Flail snails, the magic-warping gastropods who weave slowly through the subterranean Darklands, writing epic poetry with their slime trails.
- Doom-screeching dire corbies, the bird-headed terrors of the darkest caverns.
- Lurking rays, the stealthy ambush predators that are really three manta-like monsters in one: the executioners hood, the trapper, and the lurker above.
- Adherers, those sticky, mummy-like monstrosities whose wrappings of flayed skin are the scarred relics of a horrible experiment by phase spiders from the Ethereal Plane.
- Other loveable losers like the delver, the lava child, the tojanida, and of course, the infamous wolf-in-sheeps-clothing!

Misfit Monsters Redeemed is intended for use with the Pathfinder Roleplaying Game and Pathfinder campaign setting, but can easily be used in any fantasy game setting.