Regular price
$24.54 USD
Sale price
$19.54 USD
Unit price
per
Sale
Sold out
Share
View full details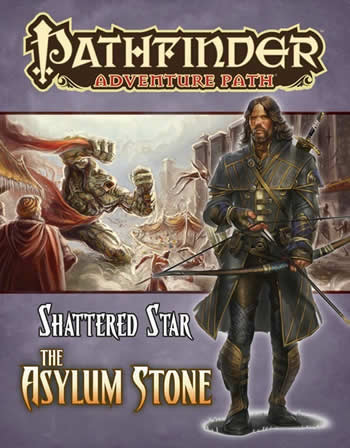 PZO9063 The Asylum Stone RPG Adventure

By Paizo Publishing

Pathfinder Adventure Path Number 63 - Shattered Star 3 of 6

The hunt for the seven shards of the Shattered Star continues, with the heroes following the trail across the face of Varisia and into the notorious City of Strangers, Kaer Maga! There, the heroes encounter strange enemies and stranger allies as their quest for the ancient Thassilonian artifact embroils them in the politics of Varisias most exotic city. What secrets lie hidden in the dark and deadly realms deep under Kaer Maga, where things best shunned from days light and sane minds lie in wait? Will the heroes survive their descent below, or will the Dark Rider claim their heads for his ever-growing collection?

The Asylum Stone is a Pathfinder Roleplaying Game adventure for 7th-level characters. This volume continues the Shattered Star Adventure Path, including several short bonus city-based encounters and side-quests and a look at the strange factions of Kaer Maga. New monsters fill the Pathfinder Bestiary, while Bill Ward (Return of the Sword) continues a new novella in the Pathfinders Journal.

Each monthly full-color softcover Pathfinder Adventure Path volume contains an in-depth adventure scenario, stats for several new monsters, and support articles meant to give Game Masters additional material to expand their campaign. Pathfinder Adventure Path volumes use the Open Game License and work with both the Pathfinder RPG and the world?s oldest fantasy RPG.