Regular price
$30.47 USD
Sale price
$25.47 USD
Unit price
per
Sale
Sold out
Share
View full details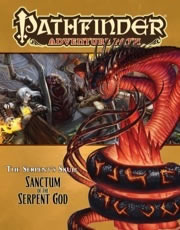 PZO9042 Sanctum of the Serpent God - Serpents Skull 6 of 6 - Adventure Path 42 by Paizo Publishing

Chapter 6 Sanctum of the Serpent God

Returning from battles against serpentfolk in the underworld, the heroes must raise an army among the war-torn jungle ruins of Saventh-Yhi to annihilate the growing evils below. Yet raising such a force tests not just their diplomatic skills, but subjects them to brutal tests of courage and strength. With a savage army united, a path to the serpentfolk stronghold beneath the city must be opened, requiring the activation of an ancient device that drops seven of the citys massive towers to impale the accursed ruins below. As the warriors of the jungles do battle with legions of snakemen, the heroes make their way to the temple of the snake god Ydersius to face the serpentfolks mad high priest and disrupt a ritual threatening to return the ancient evil god to terrible life.

A Pathfinder Roleplaying Game adventure for 15th-level characters, this volume presents the epic climax to the Serpents Skull Adventure Path, in which the heroes lead an army of savages against a threat from the underworld, face a power mad cult of snakemen, and do battle against the half-resurrected corpse of the snake god Ydersius himself. This volume contains details on the decapitated snake god Ydersius, his cult of sinister serpentfolk servants, and his undying threat to the surface world. Additional details on the jungles of the Mwangi Expanse, tribes therein, and other threats from the depths also outline numerous ways GMs might continue their campaign past the conclusion of the Serpent Skull Adventure Path. Plus five new monsters in the Pathfinder Bestiary, new fiction in the Pathfinders Journal, and much more!

Pathfinder Adventure Path is Paizo Publishings monthly 96-page, perfect-bound, full-color softcover book printed on high-quality paper. It contains an in-depth Adventure Path scenario, stats for about a half-dozen new monsters, and several support articles meant to give Game Masters additional material to expand their campaign. Pathfinder Adventure Path volumes use the Open Game License and work with both the Pathfinder RPG and the standard 3.5 fantasy RPG rules set.