Regular price
$75.47 USD
Sale price
$61.17 USD
Unit price
per
Sale
Sold out
Share
View full details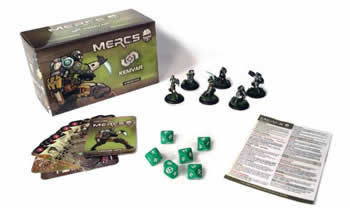 MMA702 KemVar Starter Pack by Dynamic Gaming Miniatures

MERCS is a fantastic near future Sci-Fi tabletop skirmish game. Fast moving, with a strong emphasis on good tactics, and supported by ultra dynamic miniatures, MERCS teaches inexperienced players solid fundamental gaming skills and rewards good players with advanced realistic combat action.

The 5v5 nature of the game means each member of your MERCS squad is vital to your success. The high stakes nature of the combat lends importance to every move. Games last 60-90 minutes. If you are into scenario based combat or tournament style play, MERCS is the future. MERCS utilizes a unique card based as both reference and a means to measure. This streamlined approach means games are faster, with less rule-lawyering, providing a dynamic feel with combat that ebbs and flows.

Starter Kits measure 6 x 4 x 3. Each kit contains six unpainted miniatures, six dice, a game deck, and an expanded quick-start rules reference sheet. The boxes are easy to stock, taking up less than one-quarter of the room of the equivalent number of blisters, and are sealed to protect against theft and damage. The boxes were specifically created to sit on a shelf or, by pulling out the perforated tab, hang from a wall hook.

Miniatures are supplied unpainted and assembly may be required.