Regular price
$34.55 USD
Sale price
$28.85 USD
Unit price
per
Sale
Sold out
Share
View full details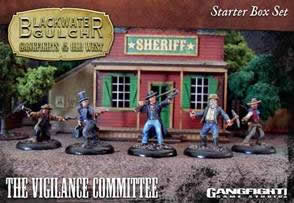 GSOGFGSS02 The Vigilance Committee Gangfights In The Old West Miniature Game

Mayor Horndike finally had enough of the lawlessness in Blackwater Gulch and sanctioned the formation of The Vigilance Committee - a group of concerned citizens determined to bring law back to the wanton streets of their town. Walking the dark streets, the Vigilance Committee soon became nearly as dangerous as the gangs they were sent to disarm.

Bounty Hunter, Rick Dawson was hired to lead the Vigilance Committee. With Trent Doc Dougall and Gramps Fillickson, a local Prospector and gunhand, plus the two Williams boys, the Vigilance committee are slowly working their way through the gangs of Blackwater Gulch.

This is not a complete game - Blackwater Gluch Gangfights in the Old West Rulebook is needed to play.

Miniatures come unpainted and assembly may be required.