Regular price
$24.25 USD
Sale price
$22.25 USD
Unit price
per
Sale
Sold out
Share
View full details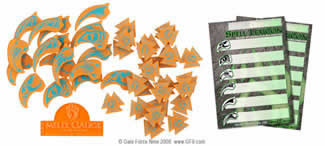 GF951030 Trollish Umber WarClaws Token Set by Gale Force Nine

WarClaws token sets track a variety of effects and abilities for your characters, warbands and armies. Each token set contains two Lexicon cards to note which symbol corresponds to a spell or effect. The handy Melee Gauge easily slips into the swirling mass of combat to determine 1/2in melee range for hand-to-hand fighting and 2in range for reach weapons.

WarClaws Token Set: Trollish Umber

3 - Claw: Comet
3 - Claw: Wing
3 - Claw: Blade
3 - Tooth: Eye
3 - Tooth: Scorpion
3 - Tooth: Skull
25 - Energy
1 - Melee Gauge template
2 - Spell Lexicon cards

These tokens are done in the incomparable Gale Force Nine style with a bright and vibrant orange and turquoise color scheme. Each token is laser cut from durable clear acrylic plastic and backed with felt to protect your gaming surface and miniatures. Look for additional WarClaws shapes and symbols in future expansions from GF9!