Regular price
$19.25 USD
Sale price
$17.75 USD
Unit price
per
Sale
Sold out
Share
View full details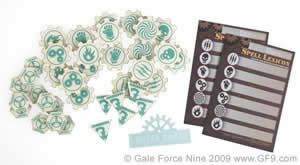 GF950660 Tenacious Teal WarCogs Token Set by Gale Force Nine

WarCogs token sets track a variety of effects and abilities for your characters, warbands and armies. Each token set contains two Lexicon cards to note which symbol corresponds to a spell or effect. The handy Melee Gauge easily slips into the swirling mass of combat to determine 1/2in melee range for hand-to-hand fighting and 2in range for reach weapons.

WarCogs Token Set Tenacious Teal
- 3 - Cog Lightning Bolts
- 3 - Cog Skull
- 4 - Cog Fist
- 4 - Cog Gears
- 4 - Cog Vortex
- 3 - Cog Blaze
- 12 - Energy
- 6 - Knockdown
- 1 - Melee Gauge template
- 2 - Spell Lexicon cards

These tokens are done in the incomparable Gale Force Nine style with a bright and vibrant ivory and teal color scheme. Each token is laser cut from durable clear acrylic plastic and backed with felt to protect your gaming surface and miniatures.

Whether a veteran commander or fresh recruit, the WarCogs range gives players premium gaming accessories that integrate with GF9s classic token range. WarCogs were also designed to work as a stand-alone product to satisfy the needs of new players or players starting new warbands.