Regular price
$16.25 USD
Sale price
$15.05 USD
Unit price
per
Sale
Sold out
Share
View full details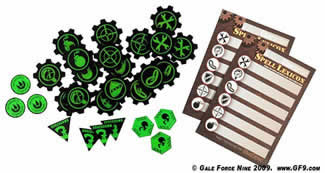 GF950632 Necrotic Glow WarCogs Token Booster Set by Gale Force Nine

WarCogs Booster Sets add a new repertoire of symbols to diversify the spell and effect types your warbands have in play. These six new icons expand upon the basic set of symbols for larger warbands and multiple heroes. Also included are extra effects tokens specific to each color type. Each booster set contains two Lexicon cards to note which symbol corresponds to a spell or effect.

WarCogs Token Booster Set: Necrotic Glow

3 - Cog: Bomb
3 - Cog: Crosshair
3 - Cog: Shield
3 - Cog: Steam Gauge
3 - Cog: Trap
3 - Cog: Wrenches
3 - Corrosion
4 - Knockdown
3 - Soul
2 - Spell Lexicon cards

These tokens are done in the incomparable Gale Force Nine style with a black and eerie green color scheme. Each token is laser cut from durable clear acrylic plastic and backed with felt to protect your gaming surface and miniatures.

Whether a veteran commander or fresh recruit, the WarCogs range gives players premium gaming accessories that integrate with GF9s classic token range. WarCogs were also designed to work as a stand-alone product to satisfy the needs of new players or players starting new warbands.