Regular price
$63.43 USD
Sale price
$58.44 USD
Unit price
per
Sale
Sold out
Share
View full details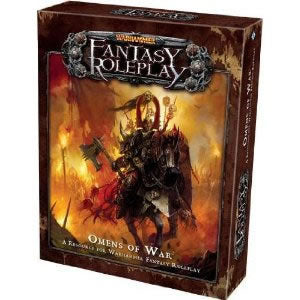 FFGWHF16 Omens of War Warhammer Fantasy RPG Fantasy Flight Games

Omens of War is a brutal new supplement for Warhammer Fantasy Roleplay, focusing on warfare in the Old World and the daemonic power of Khorne. With new martial options for player characters such as new careers, rules for mounted combat, new fighting styles, and over 50 new Action cards, Omens of War will escalate your experience to new levels of grim peril.
Omens of War is a valuable resource for Warhammer Fantasy Roleplay players and GMs alike, providing new options for martial characters and background on the military of the Empire and the legions of the Ruinous Power Khorne.
Players will find several new careers in Omens of War, inspired by the Empires militaristic traditions, as well as over 50 new Action cards. The addition of mounted combat rules and horses as a new type of Follower will open new ways to engage your enemies, while new Enhance cards give you more thematic control over your fighting styles.
For Game Masters, Omens of War introduces the Ruinous Power Khorne, his daemonic minions, and insights into the Blood God+s desires and plans. New Severe Injury rules threaten characters with grisly fates and debilitating wounds, making combat even deadlier. Finally, Omens of War also features a complete adventure set amidst the fires of battle. War is coming.