Regular price
$40.95 USD
Sale price
$37.96 USD
Unit price
per
Sale
Sold out
Share
View full details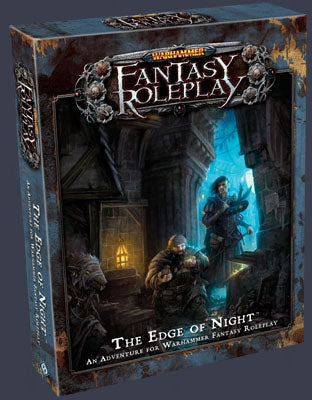 FFGWHF07 The Edge of Night Warhammer Fantasy RPG Fantasy Flight Games

The Edge of Night is an adventure for Warhammer Fantasy Roleplay. Thrusting the players into a world of mystery and intrigue, The Edge of Night offers a rich setting, a complex cast of characters with plenty of secrets to hide, and all the materials needed to immerse the players in the story.

The Edge of Night comes complete with a full color scenario book, detailing the background of Ubersreik, engaging adventure hooks to get the characters involved, and the interesting citizens of Ubersreik they will encounter. The city is bustling with activity as three noble families make their presence known, each vying for power in a time of political unrest. Meanwhile, to take their attention from the unnatural glow of Morrslieb, the nobility of Ubersreik prepare for a grand masquerade. But something sinister lurks beneath the guise of the festivities.

With full colour handouts and tokens, as well as new talent, location, item, and action cards, The Edge of Night provides a variety of new options for GMs and players alike.

This is not a complete game. A copy of Warhammer Fantasy Roleplay is required.