Regular price
$48.52 USD
Sale price
$44.48 USD
Unit price
per
Sale
Sold out
Share
View full details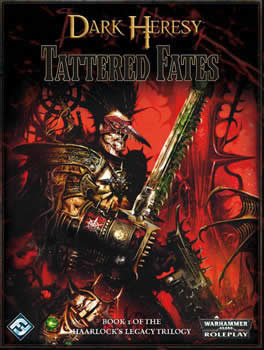 FFGDH07 Tattered Fates Dark Heresy Book 1 of Haarlocks Legacy Rulebook Role Playing Game (RPG) Fantasy Flight Games

Something terrible stirs upon the pleasure planet of Quaddis. Portents and ancient evils become evident as the penultimate 13th Hour approaches. Will your Acolytes be able to discover the secret of the Haarlocks Legacy in time? From the bloody, labyrynthine Red Cages to the mansion of Gabriel Chase, the adventure draws the Acolytes into the dark underside of Quaddis. The affairs of the notorious Rogue Trader Erasmus Haarlock take form, setting the stage for the fate of the Calixis Sector.

First in a definitive trilogy of epic Dark Heresy adventures, The Haarlocks Legacy is designed for all levels of play, beginner or veteran Dark Heresy players can explore many different paths to success. Presented in full color hardcover, Tattered Fates is the first volume of the epic Haarlock Legacy Trilogy.

When the Steel Clock strikes the 13th hour, the Haarlocks Legacy will be revealed.

Suitable for players of all levels. A copy of the Dark Heresy Core Rulebook is necessary to use this supplement.