Regular price
$30.47 USD
Sale price
$27.07 USD
Unit price
per
Sale
Sold out
Share
View full details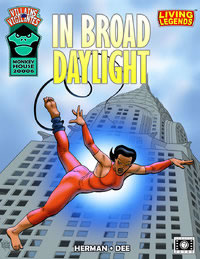 CB77502 In Broad Daylight Villains and Vigilantes RPG Sourcebook by Cubicle Seven Enertainment

Famous fashion model Holly Cooks disappeared before a crowd of thousands of spectators. Was it a publicity stunt? A hoax? An abduction? Or an assassination? Caveat Allure - the modeling agency Holly Cooks worked for - needs your team of heroes to find out. But what else are not they telling you? Find out in this exciting new adventure for Villains and Vigilantes and Living Legends by V and V co-creator Jack Herman.

Bonus This adventure includes complete stats and background information on The Indestructibles v the superhero team featured on the early V and V covers.

Fully illustrated by V and V co-creator and artist Jeff Dee.