Regular price
$40.99 USD
Sale price
$35.89 USD
Unit price
per
Sale
Sold out
Share
View full details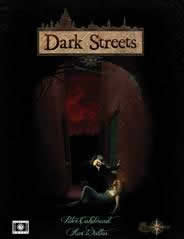 By Cubicle 7 Entertainment

Requires the Renaissance Deluxe RPG core rulebook. 156 pages - softcover - black and white interior.

London, 1749: A city of vice, crime and misery. Gangs of ruffians rule the streets, unopposed. Brothels proliferate. Child-beggars starve in filthy gutters. Corrupt night-watchmen and thief-takers turn a blind eye to wrong-doing. And dark creatures lurk in back alleys, called from beyond by the desperate with nothing left to lose. But there is a new force on the streets of London. For the author and magistrate Henry Fielding has teamed up with his brother John to form the citys first police force the Bow Street Runners. The Fieldings have persuaded parliament to fund their crime-fighting endeavour, but they know that there is something behind the vice for John Fielding's blind eyes can see things that others cannot things that man was not meant to know. Dark Streets is a worldbook for the Renaissance Deluxe RPG, in which players take on the roles of officers in London's first, desperately small, police force, investigating the dark secrets behind the sordid crimes of eighteenth century London. A mixture of authentic history and the cosmic horror of H.P. Lovecraft, Dark Steets comes to you from the designers of Clockwork & Cthulhu, Clockwork & Chivalry and the Origins Award Nominated Abney Park's Airship Pirates RPG.